What's Cooking? Seven Layer Taco Dip
---
This classic won't weigh you down like store-bought versions, which can be impossible to sink a chip through. The secret to seven penetrable layers is lightening the load with sour cream.
Ingredients:
1/2 (1 ounce) package taco seasoning mix
1 (16 ounce) can fat-free refried beans
1 1/2 cups reduced-fat sour cream
1/2 cup (4 ounces) cream cheese, softened
1 1/2 cups salsa
1 1/2 cups prepared guacamole
1/2 small head iceberg lettuce, shredded
3 - 6 scallions, sliced
1 1/2 cups shredded sharp cheddar or Mexican-style cheese blend
1 (6 ounce) can sliced black olives, drained
Preparation:
In a medium bowl, mix the taco seasoning mix and refried beans with 1/4 cup of sour cream. Spread the mixture in a large serving dish.
Mix the remaining sour cream and cream cheese in a medium bowl. Drop mixture in dollops over the refried beans and gently smooth dollops together.
Drop guacamole in dollops over the sour cream layer and gently smooth dollops together.
Drain salsa in a colander. Spread a layer of drained salsa over the guacamole layer.
Place a layer of lettuce and scallions over the salsa.
Top with cheese and garnish with black olives. Serve with tortilla chips or Scoops.
---
20% off INVITATIONS | Use Discount Code DOINVITEU20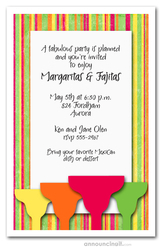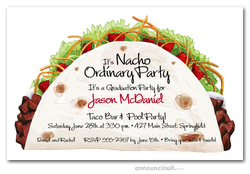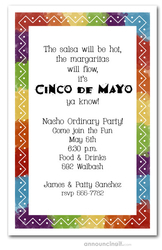 ---
You might also like:
Planning a Cinco de Mayo Fiesta...Ole!
Preparing your Home for a Party