What's Cooking? Tamale Pie Casserole
---
A Mexican food favorite is the tamale, which is Masa filled with spicy meat filling, steamed inside corn husks.
Making tamales is a laborious task, but this Tamale Pie Casserole captures the essence of the tamale with much less work.
For a party, it offers a dish you can make up the night before and keep in the refrigerator until you are ready to bake, or baked the night before and reheated on the day of your party.
You'll need:
Tortilla Chips
Shredded Cheddar or Monterrey Cheese
Tamale Pie Masa (below)
Tamale Pie Filling (below)
First, make the Tamale Pie Masa mixture using:
6 Cups hot water
2 Tablespoon Chili Powder
2 Teaspoons Salt
2 Cups Corn meal
Combine all ingredients and cook on medium heat until mixture starts to bubble, turn down heat and cook until it starts to thicken. Set aside to cool slightly.
Next, make tamale pie filling, using:
1 Pound Ground Beef
1 Medium Onion, chopped
1 Medium Green Pepper, chopped
1 Teaspoon Garlic Salt
Pepper to taste
1 Tablespoon Chili Powder
1 Can Green Chilies
1 16 ounce Can Diced Tomatoes
1 Can Creamed Corn
1 Can Sliced Black Olives
Fry ground beef until pink disappears, add chopped onion and green pepper and cook with meat until soft. Add garlic salt, pepper, chili powder and stir into meat mixture. Add green chilies, tomatoes and, corn and black olives and stir together. Simmer 10-15 minutes.

Pie Assembly:
Use 1/2 of the masa mixture to line the sides and bottom of a 9x13 baking pan, using a spatula or wooden spoon. Add a thin layer of broken tortilla chips over masa, add 1/2 of the tamale pie filling, another layer of tortilla chips, the rest of filling and finish with the other half of the masa. Top the pie with shredded cheese.
Bake at 350 degrees for 45-60 minutes, 30 minutes covered, uncovered for remaining baking time until cheese is lightly browned.
Serve with a dollop of Sour Cream and Salsa.
Your guests will love it…Enjoy!
Submitted by Jan Peterson
---
20% off INVITATIONS | Use Discount Code DOINVITEU20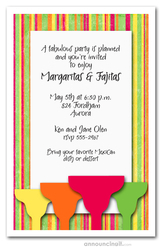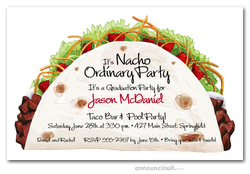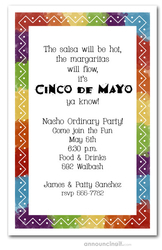 ---
You might also like:
Planning a Cinco de Mayo Fiesta...Ole!