What's Cooking? Healthy Smoky Black Bean Dip
---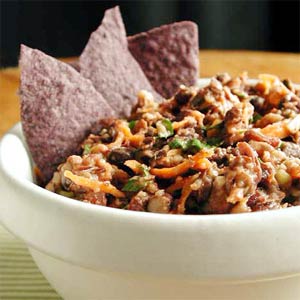 Photography: Karry Hosford
Ingredients:
1 19-oz can black beans, drained & rinsed
2 large garlic cloves, coarsely chopped
2 Tbsp. coarsely chopped onion
½ cup loosely packed fresh cilantro [leaves & stems]
1 Tbsp. fresh lime juice
1 cup grated carrots
2 Tbsp. low- or nonfat sour cream or yogurt
1-2 chipotle chiles in adobo, coarsely chopped [amount depends on heat preference]
1 tsp. ground cumin
½ tsp. red chili powder
½ tsp. smoked paprika, salt and freshly ground pepper
Preparation:
In a food processor, combine all ingredients except salt & pepper. Process until smooth. Taste for seasoning, add salt & pepper to taste, and blend thoroughly. If you prefer a thinner dip continue processing and add water 1 Tbsp. at a time until desired consistency is reached.
Transfer to a serving bowl, garnish with 2 Tbsp. of chopped cilantro if desired, and serve with baked tortilla chips, homemade whole-grain pita chips [dusted with cumin, paprika & salt], and/or crudités.
A couple of notes:
Consistency...i like my dips VERY thick, so depending on your preference you'll probably want to add some water to loosen it up a bit.
Heat...I love it, so i always go heavy on the pepper & chiles...but if you're not into spicy, start off with just a little, you can always add more.
Enjoy!
---