How to Dress for Creative Black Tie Formal | Black Tie Festive
---
20% off INVITATIONS | Use Discount Code DOINVITEU20

---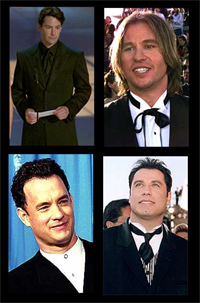 Dressing creative or festive black tie requires formal dress, but a little trendier and more fun.
Creative Black Tie Attire for Women
Tuxedo pants and silky halter with gorgeous heels; satin ball gown-skirt with formal sweater set; cocktail dress, elegant evening separates, think red-carpet hip and trendy designer wear.
Hair and makeup can be more trendy too - you can break out the body glitter and fun lipsticks or eye shadows. Hair can be worn down (think Jennifer Anniston) or a more casual updo.
Creative Black Tie Attire for Men
You can go with a more modern tux or a dark suit and tie, a colored bow tie and cummerbund, or trendier go with a black shirt and no tie or black shirt and black tie.
Good quality dress shoes and socks - maybe spice it up with red socks for the holidays.
---
White Tie ♦ Black Tie ♦ Black Tie Optional
Creative Black Tie Formal and Black Tie Festive
Business Formal ♦ Informal / Semi-formal / After Five
Cocktail Attire and Cocktail Attire Festive ♦ Festive Attire
Business Casual ♦ Casual Attire ♦ Theme Party
Resort Attire and Evening Resort Attire ♦ Wedding Casual
---
You might also like: