How to Dress Wedding Casual
---
20% off INVITATIONS | Use Discount Code DOINVITEU20

---
Wedding casual is one of those new dress codes that would probably be most similar to smart business casual.
Dress respectfully, but not necessarily extra fancy.
Basically, no jeans, no shorts, no sweats, no track suits, no tennis shoes, no logo t-shirts, (really, no T-shirts of any kind) nothing torn or dirty (even if designed to look that way) and you should be all right!
Wedding Casual for Women: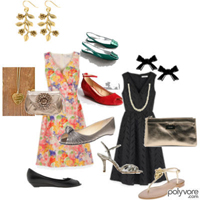 For daytime, choose a short dress in a floral print or bold color for summer weddings, think sunshine yellow or hot pink azalea in a breathable fabric.
For casual evening wedding, a short dress but in a darker color such as brown, black or navy, or choose a simple cocktail dress.
For outdoor wedding, dressy capri's or nice pants are easier than a dress to tame in the breeze. For outside, cute flats make walking over the ground easier and you won't worry about your heels sinking in.
For summer, cute heels on sandals or sling-backs can make your outfit.
For cool or cold weather, choose a sexy closed toed shoe.
Hair should be an understated and a "weatherproof" hairdo that can withstand summer breezes or humidity. Use extra hair pins, clips, style as a messy up do or sleek ponytail.
Research the weather and take a summer sweater or wrap for cooler night time temperatures or air conditioning.
If the wedding is on the beach, be prepared to take off your shoes for easy walking and a great pedicure and polish in a fun summer color is a must!
If you'll be in the sun, a chic hat and cool shades might make you more comfortable.
TIP: For warm weather, find a cute hand fan you can stick in your clutch or handbag to keep you cool and/or the bugs away.
Wedding Casual for Men:
For daytime wedding, a long-sleeved, button down shirt with nice slacks.
Recommended, but optional is a sports jacket and tie - stick a tie in your pocket when in doubt so you're not odd man out.
A lightweight linen or seersucker suit in a light color is a great way to go casual but a little trendier and dressier.
For evening casual wedding, go with darker slacks, blazer and tie (or tie in the pocket when in doubt) or a summer weight suit in a darker color, with or without a tie.
For cool or cold weather, same styling but darker, heavier clothing for day and night time events.
For beach wedding, be prepared to take off your shoes for easy sand walking. Men, treat yourself to a relaxing pedicure for barefoot, beach worthy feet and toenails.
Stash a cool pair of sunglasses for the outdoor daytime scenes for comfort and to add a little mystery.
---
Creative Black Tie Formal and Black Tie Festive
Business Formal ♦ Informal / Semi-formal / After Five
Cocktail Attire and Cocktail Attire Festive ♦ Festive Attire
Business Casual ♦ Casual Attire ♦ Theme Party
Resort Attire and Evening Resort Attire ♦ Wedding Casual
---
20% off INVITATIONS | Use Discount Code DOINVITEU20

You might also like: