How to Dress for White Tie
---
20% off INVITATIONS | Use Discount Code DOINVITEU20

---
This is the most formal type of event.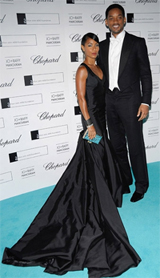 Think dinner with the Queen, night at the opera or Vanity Fair's Oscar Party.
Think formal and expensive as you can afford to buy, borrow or rent.
White Tie Dress for Women
Very formal, long gowns (think Presidential Inauguration Ball) are expected with beading, Manolo Blahniks, and yes, even fur (or exceptionally chic faux fur).
Gloves are optional, but might be a good choice in cold weather climates. Hair is elegant updos, nails freshly done but understated, bring out the red lipstick, but expertly applied.
This is not the time for false eyelashes, glitter on eyes or body or any other current fad. If it's cold, an expensive long black coat or black cashmere wrap.
White Tie Dress for Men
A black tailcoat, matching pants with two satin stripes running down the sides, white tie, white vest and white wing-collar shirt, white gloves, black fine silk socks long enough to cover your shins and black patent dress shoes.
If it's cold, a very expensive overcoat.
---
White Tie ♦ Black Tie ♦ Black Tie Optional
Creative Black Tie Formal and Black Tie Festive
Business Formal ♦ Informal / Semi-formal / After Five
Cocktail Attire and Cocktail Attire Festive ♦ Festive Attire
Business Casual ♦ Casual Attire ♦ Theme Party
Resort Attire and Evening Resort Attire ♦ Wedding Casual
---
You might also like: