How to Dress for Black Tie
---
20% off INVITATIONS | Use Discount Code DOINVITEU20

---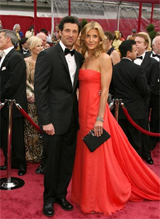 When dressing for black tie, think about the party - what's the location? How many guests?
If it is a 200-person event at the Ritz, you're going to need to be dressier than a dinner party for 20.
Black Tie is quite formal and what most people are accustomed to on formal party invitations.
Black Tie Dress for Women
Again, long gowns in satin or velvet but less dressy than White Tie are good selections. It is always a safe bet to go with an elegant black dress.
You can go with shorter knee-length dresses (stay away from minis) and beading or elegant trim is fine. Hair and makeup follow the same rules as White Tie - the finished look should be polished and elegant.
Shoes - think rhinestones, decorative stones or beading.
Jewelry of full strand pearls, gold or platinum chains with pearls or diamonds or diamond tennis bracelets and necklaces is appropriate.
Holiday Black Tie: Women might want to try a great red dress with a beautiful wrap or faux-fur and a beaded bag and beautiful pumps.
Black Tie Dress for Men
Black tuxedo jacket and matching pants, formal white shirt and studs to replace buttons, matching black bow tie and cummerbund (remember the folds face up to catch the crumbs - that's why it's nicknamed a crumb-catcher), formal black patent shoes and black dress socks, elegant tasteful jewelry / watch / cuff links are expected.
No gloves unless it's cold and they go with your very expensive overcoat.
---
White Tie ♦ Black Tie ♦ Black Tie Optional
Creative Black Tie Formal and Black Tie Festive
Business Formal ♦ Informal / Semi-formal / After Five
Cocktail Attire and Cocktail Attire Festive ♦ Festive Attire
Business Casual ♦ Casual Attire ♦ Theme Party
Resort Attire and Evening Resort Attire ♦ Wedding Casual
---
You might also like: