How to Dress for a Theme Party
---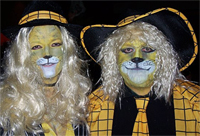 Think Playboy's Midsummer's Night Dream party or Puff Daddy's White Party (you leave or change clothes if you're not wearing white).
Mardi Gras Masquerade Ball or Adult Halloween Costume Party might not necessarily mean lingerie as a costume is expected.
Texas Chic, California Casual, there are lots of regional descriptions for party attire.
When in doubt, follow the invitation's dressing instructions or call the host to get specifics on what's expected and the accepted mode of dress.
---
You might also like:
...12 Things RSVP does not Mean
Join our newsletter below